Local Information
The Caribbean flavor of the Lower Florida Keys – and the laid back lifestyle – are what make this beautiful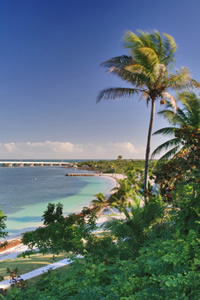 Island chain so fantastic. The Lower Florida Keys are just a short, 2-hour drive from the mainland – otherwise known as Miami! So put on your shorts, t-shirt and flip-flops and discover why Key West and the Lower Florida Keys are the perfect spot for your next vacation!
Come enjoy some of the world's best fishing, snorkeling and diving – or just sit back and relax in the beautiful Florida Keys sunshine. The island of Key West (Mile Marker ZERO!) is within 20 minutes of most of our vacation rental homes where you'll find fantastic dining, sight-seeing, art galleries and shopping. However you choose to pass the time, you'll be glad you did it in Florida!
Every season brings its own flavor the the Florida Keys. There's almost always a special event, festival, tournament or celebration happening – and all unique the area.
The Florida Keys have a mild climate because of the Gulf Stream in the Straits of Florida. The Gulf of Mexico to the west and north also have tempering effects on our climate. The average temperature during the winter is only about 14 degrees lower than in the summer. Daily variations throughout the year average only about 10 degrees. There is no known record of frost, ice, sleet, or snow in Key West. December through April is typically full of sunshine and slightly less than 25% of the annual rainfall. June through October is normally 53% of the yearly total in numerous, short showers and thundershowers.